Karryl received her BFA with an emphasis on sculpture from the University of Colorado. She then continued her sculpture education with workshops at the Loveland Academy and an apprenticeship with Sculptor Hollis Williford. Karryl's award-winning sculptures have been shown in invitational and juried shows across the country.

The subjects for Karryl's sculpture have primarily been wildlife. Indeed, her greatest joy is taking time to study animals in their natural environment. Direct observation and interaction with her subjects help bring out the amusement and joy she feels for the natural world around her. Karryl's African subjects have been inspired by her numerous adventures in South Africa, Zimbabwe, Namibia, and Botswana. At home, her inspiration comes from treks through national parks. Karryl works in a loose and often whimsical style, concentrating on capturing the essence and spirit of the subject. Regarding her artwork, Karryl states that her pieces "Capture a moment in time in order to bring others to a closer awareness and appreciation of the natural world." Karryl is an associate member of the National Sculpture Society and Women Artists of the West, as well as a signature member of the Society of Animal Artists and the Artists for Conservation.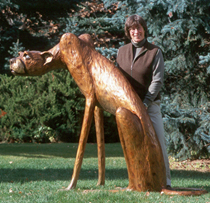 Karryl with her "Got Gnus?" Monument.
Read More