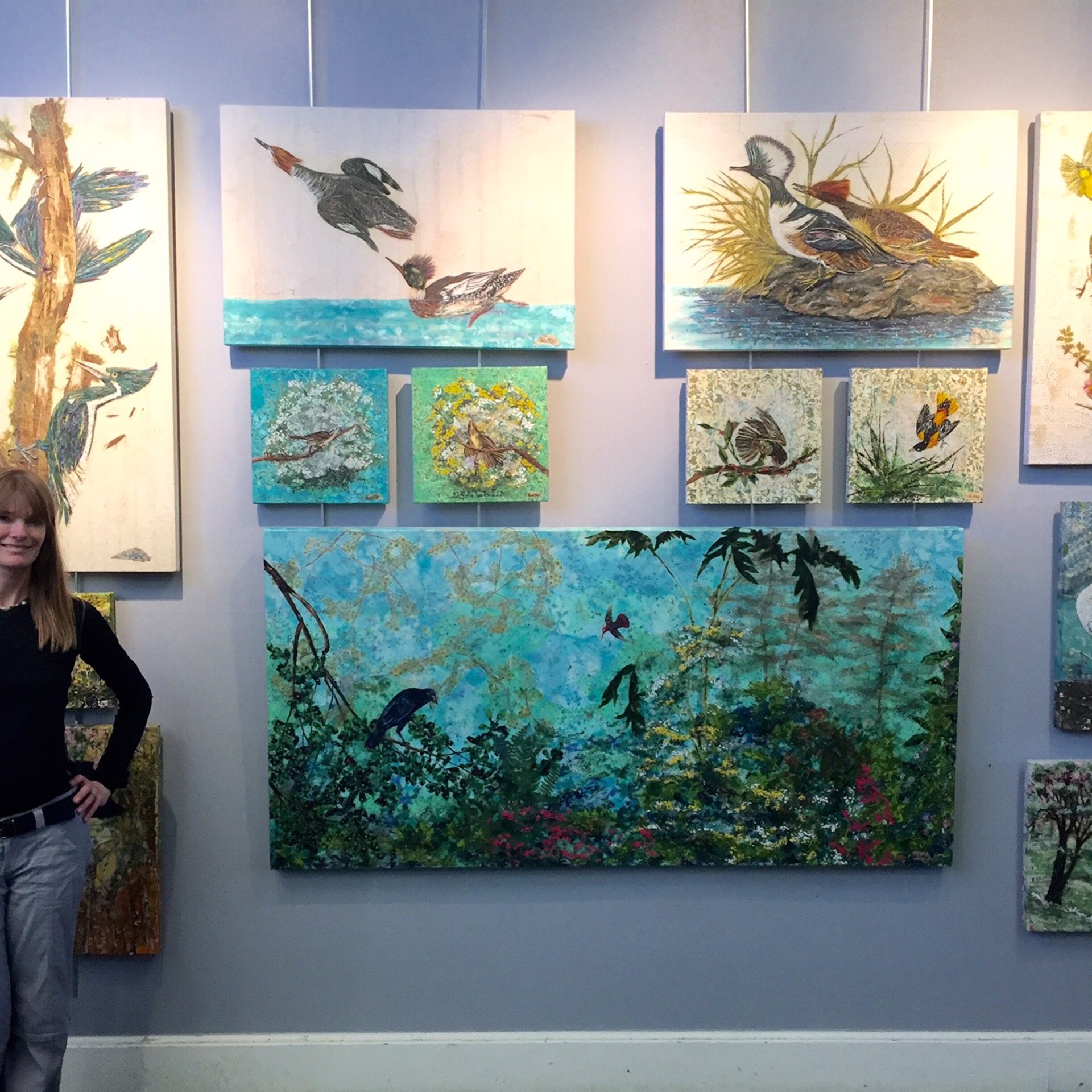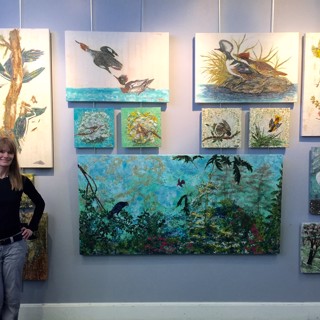 Laura W Adams Artist statement
I have been an avid bird watcher and hiker I have for many years. My artwork reflects the joy I experience in nature and my spiritual journey through nature. I have been inspired by many artists, most notably the collages of Matisse, the watercolors of Audubon, the colorful mosaics and paintings of Klimt and the sense of self and purpose of O'Keeffe.
My artistic process is unique. I use paper and a clear acrylic glue to create my work. I do not use paint – I use the colors and textures and patterns of a variety of papers to create my work. I use many layers of paper, sometimes 15-20 different layers, to achieve the effects I am seeking. The finished work often, because of the many layers, has a bas-relief and a texture that is not evident from digitized images. The papers I use come from around the world. Many of the papers I use are mulberry based papers from India, China, Japan and Nepal. My favorite papers are the beautiful Japanese washi papers that are used for origami. I also favor colorful book binding papers from Italy, as well as the textured fibrous papers from Mexico. I have been working in this medium for over 20 years, and it has taken me these many years to master the process.
About the Artist
Laura W. Adams is a collage artist whose work depicts the forests, wildlife and wildflowers of the world. She concentrates her subject matter on the flora and fauna and birds that live in areas around her. An avid birder and hiker, Adams' work brings the viewer into the emotional and spiritual connection she feels in the presence of nature.
The source material Adams uses for her collages include found items from nature, textured papers, painted papers and exotic patterned papers that have been cut up, layered, and adhered with acrylic medium. Often, ten or more layers of material are used to create a single work. The result is a "painting" with a distinct, three-dimensional effect.
Adams has shown her work in galleries and juried exhibitions throughout the United States. Her pieces are owned in a number of corporate collections as well as private collections around the world.
Adams ventured into the business side of the art world when in 2016 she opened Brickworks Gallery in an historic, industrial era building on the Atlanta Beltline's Eastside Trail.
Adams started her artistic journey in a non-conventional manner. Growing up as an artistic person, she began her college career in photojournalism at the University of South Carolina. She soon changed course after considering her future employment options, graduating from South Carolina in 1985 with a Bachelor of Arts degree with a major in Political Science and minors in Business Administration and History. Adams then attended Emory University School of Law, graduating with a Juris Doctor degree in 1989.
Adams moved to Savannah, Georgia after her law school graduation and practiced for six years in the areas of corporate and commercial litigation, all the while continuing her creative side life of photography. Her law firm, facing dissolution in 1995, left Adams with the option of continuing on with her law practice as a partner in a new firm, or leaving legal practice altogether. She left the law to pursue her artistic muse.
After a number of years of experimenting with photography, Adams became frustrated with the limits of the photographic medium. She began cutting up her photographs and rearranging them, adding in colored and textured papers. She eventually created a new collage technique, moving away from photography entirely. It is in this collage medium that Adams continues to practice her art today. Adams has been a professional working artist for more than 20 years.
More information on Adams and her work can be found at www.laurawadams.com
Read More